Bleeding Hearts, Brains and Pumpkin Cocktails for Halloween on Lincoln Road at Serendipity 3 Miami
Wednesday, 10/31/2012, 12:00 pm – 12:00 am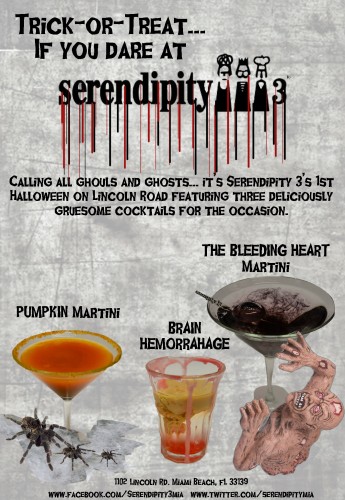 Serendipity 3
1102 Lincoln Road,
Miami Beach, Florida 33139
Facebook Link
Calling all ghouls and ghosts… it's Serendipity 3's 1st Halloween on Lincoln Road and will feature three deliciously gruesome cocktails for the occasion. Not for the faint of heart, these cocktails might be an eye sore, but will do more than spook the taste buds.
The Brain Hemorrhage is a $7 shot of peach schnapps and Bailey's with a few drops of oozed grenadine, surgically concocted to create the illusion of a bleeding brain.
The Bleeding Heart Martini is a $10 delicious libation of vodka, simple syrup and candied baby beets, the sight may be ghastly, but those brave enough will fall in love.
The Pumpkin Martini is a $10 sinful blend of vanilla vodka, amaretto, pumpkin purée, a splash of simple syrup and a dash of cinnamon mixed together for a sweet treat.
The witches are brewing their delicious kettles of concoctions at Serendipity 3 on Lincoln Road every night up to and including Halloween to get poisoned by one of their potions.
WHAT: Halloween Cocktails at Serendipity 3 Miami
WHEN: Every night leading up to and including Halloween
WHERE: Serendipity 3
1102 Lincoln Road
Miami Beach, FL 33139