Patterns for PAWS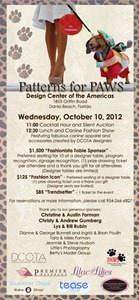 Wednesday, Oct. 10th at 11:00 a.m.
DCOTA
1855 Griffin Road
Dania Beach, FL 33004
Tickets start at $85.00 or designer seats are available at $125.00 (designer seats are limited).
For more information, or to purchase tickets, please call 954-266-6827.
Pedigree pups and adoptable pets from the Humane Society of Broward County will sashay down the runway, presenting a collection of couture canine apparel on Wednesday, October 10 at PAWS' 4th annual "Patterns for PAWS" event.   This highly popular event, taking place at the newly renovated Design Center of the Americas (DCOTA), has become a favorite among animal lovers.  Event co-chairs, Luann Alorro and Tara Forman, promise that guests will be astounded by the one-of-a-kind collaborations from the industry's most celebrated designers and showrooms.
 
The day begins at 11:00 a.m. with a cocktail hour where guests will be able to bid on an array of items in the silent auction.  In addition, there will be prize drawing tickets available for the chance to win a fabulous spa on location package from Tease Salon and also a custom made designer dog bed.  Guests will also have the opportunity to visit with some of the adorable pets from the Humane Society of Broward County and even adopt while they are there.  Once lunch begins at 12:30 p.m. a highly anticipated doggie fashion show will be underway. 
 
This event would not be possible without the generous support of the following sponsors: DCOTA, Christine & Austin Forman, Christy & Andrew Gumberg, Lys & Bill Rubin, Dianne & George Bunnell and Ingrid & Brian Poulin, Tara & Miles Forman, Jeannie & Steve Hudson – Bimini Boatyard Bar & Grill, Tease Salon, Lilac And Lilies, Premier Beverage Company, Wilson Daniels, Laetitia, Sweeter Days, Fresh & Fabulous Creations, Little's Photography and Betty's Model Group.
Proceeds from Patterns for PAWS will benefit the Humane Society of Broward County and will help find homes for thousands of homeless animals.