The City Of Miami Beach Presents The Food Truck And Music Fest Featuring The Marshall Brothers Band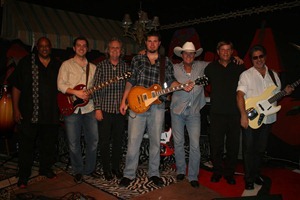 Wednesday, October 17, from 6-9 PM
North Shore Bandshell
Collins Ave. and 73rd Street
Miami Beach, FL
The City of Miami Beach presents the second Food Truck and Music Fest of 2012. Music will be provided by the Marshall Brothers band, who appear courtesy of KCC Productions. Art show presented by Life Is Art.
Admission is free.
Winners of the South Florida Fair 3rd Annual Classic Rock Tribute Band Competition, Florida's Premier Allman Brothers Tribute Band brings to life the music of that band performed for you by a band of devoted fans, excellent musicians, and good friends.
They offer the Allmans' hard-hitting, emotionally charged music with that Southern charm. "Music has always been a creative part of all our lives, and playing for our fans & audiences is a dream come true. We would like to thank all our fans, friends and most of all, family for giving us the inspiration to play our unique brand of southern rock."
Often performing with Greg Allman's son Michael, the band's regular personnel are:
Derek Marshall / Lead Guitar
Al Marshall / Lead Vocals
Chris Micolucci / Slide Guitar, Lead Guitar
Bill Jolly / Organ, Keyboards
Dennis Freireich / Bass Guitar, Vocals
Rod Parker / Drums, Percussion
Bruce Gaffney / Percussion, Vocals
The brothers each have some 40+ years experience and it shows in their hard-charging superior musicianship. For more information, contact KCC Productions at 305-332-2623 or kcc_productions@yahoo.com.