The Art Rush on Lincoln Road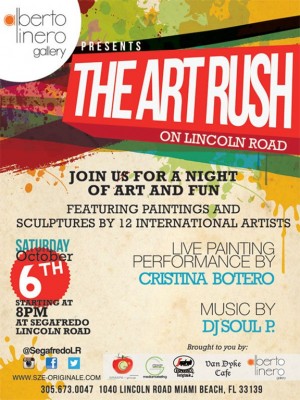 Saturday, October 6, 8pm
1040 Lincoln Road
Miami Beach FL 33139
305-673-0047
www.sze-originale.com
Segafredo on Lincoln Road, also referred to as L'Originale, has partnered with Alberto Linero Gallery to showcase celebrated local and international artists and their mixed media works including sculptures and paintings. The monthly series kicks off on Saturday October 6th at 8pm and will be held every first Saturday of the month through January 2013. In October, selected artists are Santiago Betancur, Luis Jimenez, Sarah Allen, Todd Babb, ROMGO, Matachos Art, Suarez Molinares, Pedro Sandoval, Herrera, Xibie Corea and Pilar Garcia-Reyes. In addition, a live painting performance by Cristina Botero will be held at 10pm.
The line- up of international artists bring an eclectic art experience with inspirational creativity from science with life-size figure painting by Betancur; urban living, with steel sculptures by Luis Jimenez; nature's destruction by Sarah Allen; natural elements, light and colors by ROMGO; human nature by Babb and human form by Suarez Molinares; Mexican culture and folklore by MATACHOS ART; abstract neo-expressionnism by world-renowned Sandoval; mix of European and Andean culture by Herrera and pop culture by Corea. Live performer Cristina Botero explores the methods of creation during which "she paints with her body".
Located in the lively pedestrian street, Segafredo L'Originale on Lincoln Road offers an open air setting for viewing unique pieces of art by talented international artists otherwise only available in a gallery environment. Each artist will be on site to discuss their pieces with inquiring minds during ART RUSH.
"ART RUSH was designed to engage patrons and passing visitors into an art-based experience where the art comes alive before you," explains Alberto Linero of Alberto Linero Gallery.
DJ Soul P. will be spinning his tunes during the event.
The event series will continue every first Saturday of month in November, December and January.
About Alberto Linero Gallery: Located in the heart of Miami's Wynwood district, Alberto Linero Gallery presents a refreshing spin on contemporary and modern art. Showcasing mixed media works, sculpture and painting, the gallery offers a compelling line-up of Latin American and international art. Exhibitions are site-specific and designed with the architectural elements of the 2,000-square-foot space in mind. Freestanding partitions, dedicated niches and project-based installations rotate regularly as part of the program at Alberto Linero Gallery, located at 2294 NW 2nd Avenue in Miami.
Luis Jimenez: For Luis Jimenez, inspiration can develop from everyday activities such as a drive to the office or even watching television; beauty can present itself as a sign on Lincoln Road (Miami Beach) or in a piece of twisted metal in New York City. The combination of this daily urban alphabet guides his creative sensibilities and challenges cultural barriers. A New Jersey native, Jimenez moved to Colombia where he pursued a degree in mechanical engineering at Medellin's School of Administration, Finances and Technology. He thereafter continued his education at Florida International University in Miami with a specialization in laminated steels, which led to an early career in the metal and mechanical industry. Jimenez ultimately discovered plastic art through his work in the metal industry. He explored the medium during workshops and personalized courses in drawing, painting, wood sculpture and stained glass, both in Colombia and United States. He continues to perfect his craft at Alberto Linero Gallery in Miami's Wynwood Design District, where he is an artist-in-residence. Jimenez's iconic 'Peace' sculpture is installed in front of Mai Tardi Restaurant in the Design District and at the Philharmonic Center for the Arts in Naples, Florida.
Santiago Betancur: The work of Santiago Betancur lies between the complexity of science and abstract art. His approach to life-size figure painting interweaves the two worlds, creating a delicate balance that gives him "the satisfaction of discovering [his] own abstract diseases and cures." His style reflects his affinity for nature and for how natural elements emit the highest level of creativity. A native of Colombia, Betancur traveled to Miami in 2009 with a goal to generate new concepts for how humanity views itself. His work is physiologically precise, often gaining praise from doctors and scientists. Most recently, he joined the team at Alberto Linero Gallery in Wynwood Design District. As a featured artist in the gallery, Betancur maintains a strict mantra which has inspired a series of self-portraits: "humans are only neurons receiving the best information we can from the universe."
Sarah Allen: A native of Atlanta, Freeman moved to New Orleans in 1958 and enthusiastically embraced the local art scene. Encouraged to pursue her own creativity, Freeman enrolled in art school at Newcomb College in 1970. She painted extensively until 1975, when she put her art career on hold to raise children. She ran Eclectics, a popular ethnic art gallery in the French Quarter. In 1970, she began a long and influential association with the New Orleans Jazz & Heritage Foundation – almost by happenstance. She was tending her gallery when Preservation Hall founder Allan Jaffe walked in and said, "Can you get out for a while? There's something going at Congo Square I think you'd enjoy." It was the first Jazz Fest. Freeman joined the board of the fledgling Foundation, serving as president from 1981 to 1984. In the mid-1990s Freeman returned to Atlanta and resumed painting, amassing a large collection of works – all of which were destroyed in a catastrophic fire in her home studio in 2005. The works in the current exhibit – all acrylic on canvas – represent her output since the fire, and her response to it. "It's just a violent reaction to the devastation," Freeman says of her recent work. "You just can't get enough paint on the canvas. You have a lot of energy: 'I'm just not going to let this fire burn me up. I'm not going to let it happen…. You create something, and then you see it vibrate and change and grow and explode and get back together," she says. "The 'end of the world' doesn't scare you. It's not going to end. It's going to keep on going, no matter what anybody does."
Todd Babb: A natural ability to sculpt and paint was fine tuned during the prosperous years of Todd's first business venture, Creative Artistry. During this time he carved and painted in solid surface materials working directly with design professionals on three continents. His work with Dupont Corian© and LG HiMax© gave him an audience with such industry giants as Princess Cruiselines© and the Walt Disney Company©. This success also afforded him the opportunity to show work in Solid Surface magazine, on Home and Garden Television, and in events such as the Kitchen and Bath International Show's in Atlanta, Chicago, and Orlando. While pursuing these endeavors he continued to give back to the community with involvement in local charities in Southwest Florida, such as Arts for ACT and Pelicans in Paradise. Todd was also honored to work in a sole artist project with Lt. Governor and Mrs. Jeff Kottkamp to raise money for the Abuse Counseling and Treatment Center. Since 2007 Todd's focus is exclusively on fine art using his personally developed method to create conceptual pieces that portray a deeper understanding of human nature. His sculpture has been on display at the Naples Museum of Art and in solo and group exhibitions. His work can be seen in galleries, fine art festivals, and collections around the world, ranging from Panama and Ecuador to Greece and the United Kingdom. His work has also been featured in numerous articles and publications (to include the 81st edition of Florida Architecture).
Romgo: Mexican Artist, Romgo is famous for his "ycaros."- They are imaginary beings in a million different colors and forms. They roam freely in each of Romgo's pieces, and cohabit the walls of his studio, going up and down the stairs of the imagination. They weave neuron thoughts of creative ROMGIANA. They go out and expose this creativity to the light and they bathe in the color and textures. They are hiding in each grain of sand mixed in his work.
Cristina Botero: Artist Cristina Hernandez Botero has been painting since the age of 13. Finishing high school in Colombia and moving to Paris she studied at the prestigious L'Ecole des Beaux Arts, most famously attended by Impressionists such as Degas and Monet. Here she acquired a very academic education of mainly human figure painting and drawing with nude models. Traveling constantly to other cosmopolitan cities such as London, Miami, Bogota and New York she concluded her international artistic studies at New York University graduating with a Bachelor in Science, Major Studio Arts in 2002. New York is a main strategy for her artistic career due to it's diversity of artists and the possibilities of exhibiting work at a young age. Accordingly, she's had fifteen shows in New York. These include the American Fine Art Soho and Rosenberg Gallery NYU. Having had her first show at the age of 21 at the Modern Art Museum of Fort Lauderdale in 1998 three solo Shows in New York at Greely Square Gallery, Green Gallery Williamsburg provide opportunity to introduce one to her work. Regulary showing in Miami with Art + Gallery; she just concluded a Solo Show in March 2004. She additionally has exhibited in Paris and Ibiza.
Matachos Art: Oscar and Isabel: Oscar Reyes was born in Cali, Colombia in 1970. From an early age due to family reasons, frequently changing country, taking his time well in training many chances to interact with different cultures, awakening in him fascinated by the different types of personalities. From a young age, leaving only drew sketches in pencil and also showed only half his face, always emphasizing that we all have a dark side that makes fundamental part of who we are. In 2002, based in Miami, his designs are from the hand of Isabel Estrada color, making this partnership through the creation of MATACHOS ART. Isabel Estrada born in Cali, Colombia in 1977, from very young is characterized by favoritism to art, which makes travel to Mexico in search of opportunity and education. This country, full of color and folklore along with their native culture, give inspiration to fill with joy and Oscar magic designs, creating a wonderful fusion. From a creative, joyful, trying different types of strokes and textures, and coming to an acceptance of the product in the environment has developed MATACHOS ART.
Suarez Molinares: After a childhood friend encouraged his creative instincts, Molinares became intrigued by the human figure and began developing his unique artistic language. Drawing inspiration from artists such as Michaelangelo and Greek sculptor Polykleitoss, his preoccupation with the human figure has led him on a quest to explore various mediums including paint and mixed media. Molinares strives to set himself apart from the prevalent form of art, which thrives on the female figure. Through his unique style he brings a newfound appreciation to the male form.
Pedro Sandoval: Pedro Sandoval defines himself as abstract neo-expressionistic, which inevitably puts him together with Kandinsky and Willem De Kooning, whose vibrant influence is felt in his work. However, a simple retrospective look will allow us to determine that his artistic path cannot be laced in simple classifications. Sandoval is much more. His work feeds on the rich source of abstract painters who preceded him and left magnificent works. Today, he is considered as one of the most important artists of the world of painting. The works of Pedro Sandoval are part of the Moma- Museum of Modern Art, Louvre, Muse de Orsay, Centre Pompidou, Guggenhei – New York, Guggenheim-Bilbao, Guggenheim-Berlin, The Metropolitan Museum of Art New York, Museo Nacional de Arte Moderno – Tokyo, Museo del Prado in Madrid, J. Paul Getty Center- Los Angeles, TATE – British and International Modern Contemporary Art, Centro de Arte – Reina Sofia, Museo Thyssen Bornemisza, Boca Raton Museum of Art in Mizner, Museo de Arte Contemporaneo–Barcelona Hamburger Kunsthalle – Germany,Museo Nacional de Arte Decorativo – Argentina, Museo de Arte de Sao Pablo – Brazil, Museo de Arte Moderna de Rio de Janeiro, Galeria Nacional de Arte–Washington, Galeria Nacional de Londres – Great British. Moreover, his works are present in private collections around the world, like the Kennedy family, the Collection of the White House and Vatican Museum Collection, among others
Herrera: Herrera was born In Cartagena, Colombia and is the son of a Colombian father and a Catalan mother. The Herrera family owned a fabrics factory in Barranquilla. Most of his childhood was spent roaming the beautiful streets of Cartagena. Over a period of four decades, Herrera incorporated into his painting a repertory of themes that are unmistakably Colombian in character.
Herrera took influence from European culture, while retaining an Andean imagery and stylistic creation, using guitars, bulls, and the Andean condor in his pieces. Herrera is primarily a painter. His compositions are usually divided horizontally into two areas of different pictorial value or size, but of equal visual intensity. Other elements are placed against them. Use of color, exploration of traits and strokes through brush handling, and employment of transparency and impastoes characterize his style. Landscapes were translated into geometric symbols of Colombia. Herrera is a good example of the abstract Surrealist trend in Latin America.
Xibie Corea: Miami local artist, born in São Paulo, Brazil. Moved to the United States in 1993. Got involved with the arts and received her Bachelors in Fine Arts from New World School of the Arts/University of Florida in 2006. Xibie has been working in her field as an art director for many years. In 2003 she joined "Art by Girls <http://www.artbygirls.com/> " and that venture happened 'till 2007, where she curated and managed exhibitions as well as showed some of her own work. Now Xibie is working independently within commercial arts, painting, photography and is much involved with the "blogging" world. Xibie's main influences are Warhol, Basquiat, Miró and Mackenzie Thorpe (as well as illustrators such as Natalie Dee, Exploding Dog, etc). Oh, and most definitely street art/graffiti and stickers! Being categorized as "pop" as well as "neo-expressionism" artist, Xibie is eager to keep on developing her work while becoming more involved with the community.
Pilar Garcia- Reyes: Born in San Fransico to Colombian parents, Pilar has always been a fan of travel and culture. She has spent most of her life exploring the world. For the past few years she has been living in Cabo San Lucas, where she was inspired by the Mexican Mariachis.