Opening Reception Jaimie Warren at MDC Museum of Art + Design
Thursday, September 6, 7 p.m.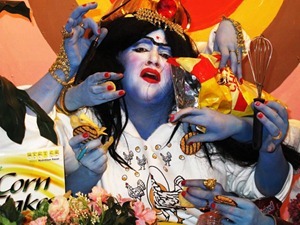 MDC Museum of Art + Design
Miami Dade College Freedom Tower 600 Biscayne Blvd.,
Second Floor Miami, FL 33132
The WHOAS of Female Tragedy
Photographs by Jaimie Warren
SEPT 7 – OCT 27, 2012
Untitled (Self Portrait as Kali Conner), 2012, color photograph
In collaboration with DWNTWN Arts & Cultures DWNTWN Art Days
Artist Talk
Saturday, October 20, 1 p.m.
JAIMIE WARREN (b. Waukesha, WI, 1980) is a curator, performance artist,
photographer, and co-creator/co-director of the faux public access television show Whoop Dee Doo. Warren lives and works in Kansas City, MO, and has exhibited at White Flag Projects, St. Louis; Smith-Stewart, New York; The Atlanta Center for Contemporary Art, Atlanta; Max Wigram, London; Showroom for Media and Moving Art, Rotterdam; Getsumin, Osaka; Colette, Paris; and Higher Pictures, New York, among others.
This exhibition will feature a history of 10 years of self-portraiture by the artist, as well as a new series of re-creations of photoshopped collages created by anonymous users found on the Internet. The images reference both art historical paintings and visual pairings of pop culture icons. Warren collaborated with artist Lee Heinemann, who created custom makeup, props and masks.