The City of Sunrise and KCC Productions present "Red, Hot, and Blue: Songs of the 30's and 40's" starring Wendy Pedersen and Lisanne Lyons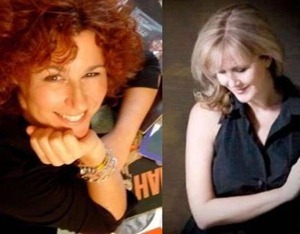 August 31 at 8 pm.
Sunrise Civic Center Theater
10610 West Oakland Park Boulevard
(954) 747-4646. Tickets $17; $15 for students, $10 for children.
 
Go back to the '40s with KCC Productions' swinging ensemble, "Red, Hot and Blue," featuring singing sensations Wendy Pedersen and Lisanne Lyons. These fabulous ladies will be accompanied by a quartet of musicians led by Jim Gaisor on piano, Rick Harris on trumpet and vocals, and Josh Allen on bass. Hear favorites like "Boogie Woogie Bugle Boy," "Don't Sit Under the Apple Tree," and more!
 
Wendy Pedersen is one of South Florida's favorite performers. Her high-energy vocal delivery, with deep, convincing emotion has been impacting audiences for many years.  Wendy has won many awards including the Southern Bell/Pace "Jazz Artist of the Year"  and a Miami New Times "best vocalist", saying, "Wendy can shake the rafters or break your heart…"   Wendy Pedersen's discography includes her debut CD, "Me + Three"; a Holiday CD, "Ho Ho Ho"; and her brand new release, "Under The Influence", a tribute to the many women who inspired and influenced her. Both Wendy and Lisanne also sing with an exciting new jazz vocal quartet, Mad Romance, also featuring Rick Harris and Greg Diaz.
 
Lisanne Lyons teaches Studio Music and Jazz at the University of Miami's Frost School of Music. She has been featured with the Woody Herman Orchestra, Maynard Ferguson, Arturo Sandoval, Roanoke Symphony, Palm Beach Pops, XL Big Band in Sweden, Nantes Big Band, Los Alas Studio Orchestra, and various bands and orchestras across the country. She has produced two solo CD's and two CD's as lead soprano in the DC-based Uptown Vocal Jazz Quartet, with whom she performed at major jazz festivals across the country and abroad. With numerous performing, recording, and back up singing credits, she was also the featured performer with Joel Grey on the NBC Orange Bowl half-time show.  Lisanne is the recipient of several DownBeat awards as a jazz vocal soloist, jazz vocal choir director, and most recently as a jazz arranger.  She was the first to perform live the Nelson Riddle arrangements of the George Gershwin Songbook that he wrote for Ella Fitzgerald, who only recorded them.