Veterans Day Parade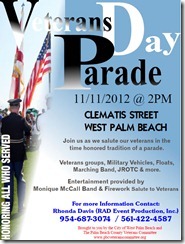 November 11, 2012, 2pm -5pm
Centennial Fountain
Centennial Square 
401 Clematis St,
West Palm Beach, FL, 33416
The Centennial Fountain, located in Centennial Square at the south end of Clematis Street in Downtown West Palm Beach, can accommodate up to 100 people. This plaza includes benches, tables and chairs, as well as an interactive fountain that is a popular site for children's play. Street -side parking…
 
http://www.facebook.com/radeventproduction
 
The Annual Palm Beach County Veterans Parade celebrates and honors the valiant courageous service and sacrifice of the brave men and women veterans and their families have given to America. Veterans Parade line up starts at 12:30PM at Clematis and Sapodilla Streets at the west end of Downtown West Palm Beach. For more information please contact Event Planner (Rhonda Davis 954-687-3074 / email: info@radeventproduction.com)
 
Everyone Welcome!!