Vaughn Alaine-Marshall Uberstar Launch Party
August 30th, 2012, 6:00 PM to 11:00 PM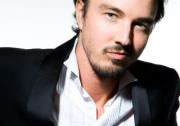 Jeronimo's Brickell
75 SE 6th Street #103
Miami, Florida 33131
Facebook Evite
Announcing and launching acclaimed Author Vaughn Alaine-Marshall at his first Miami press event party! Vaughn Alaine-Marshall is releasing his second book in September, all about American Idol…called Uberstar: The Search for America's Next Hollywood Superstar.
http://IdolFanExperience.com/
http://UberstartheBook.com/
Come join Vaughn, his team, and Jeronimos Brickell to have a great time! You might just get your picture taken on the red carpet, too!
More insight from the talented and intriguing author, Vaughn Alaine-Marshall:
My name is Vaughn Alaine-Marshall. I am an author and reality-TV expert. I have been interviewed on CNN, along with other major publications around the world, and have been a regular writer on some of the largest reality-TV magazines and websites.
I have succeeded in the international market, but that was just a warm-up. It is now time to bring this story to America, the home of the largest reality-TV show in television history.
Überstar – The Search For America's Next Hollywood Superstar is the book thousands of confidentiality agreements were designed to stop. Former contestants, producers and insiders have broken their silence to tell me what really goes on behind the scenes of American Idol. The stories astounded me and will shock you. But, that is only half the story.
Join me and my marketing team as we celebrate the upcoming release of UBERSTAR at JERONIMOS BRICKELL http://www.jeronimosbar.com/#!brickell
There will be:
-Press red carpet: picture and video opportunities
-Open Bar from 6-7PM
-Vaughn's signature drink special and select drinks 1/2 off 7-11PM
-Appetizers
-Opportunity to buy the Ebook at a discounted rate
-Sign ups for http://IdolFanExperience.com/
-Art on Display from local artist and business consultant TATIANA CASTANEDA
…and more!
Brought to you by Jeronimo's Brickell and Marketing Consultant, Jackie Jimenez at http://Facebook.com/TheInnovativeConsultant
Video production and creator of "Buzz" by Sebastian Rusk at http://SocialBuzzTV.com/
Sponsors:
Alcantara Media http://alcantaramedia.com
Social Media Sass http://facebook.com/socialmediasass
Social Media 305 http://twitter.com/socialmedia305
See you there! Tweet me at http://twitter.com/valainemarshall to connect.