WinePhoto, Editions 2011: An International Photography Exhibit
September 7 and 8, 2012, 12:00 to 9:00 pm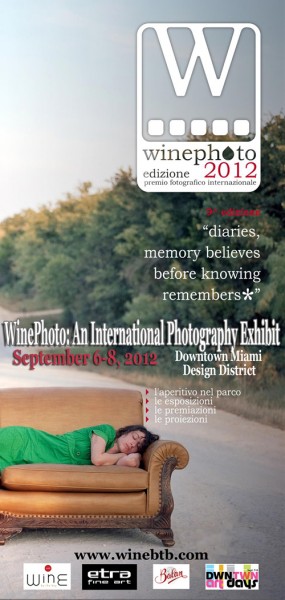 Wine by the Bay
888 Biscayne Blvd.
Miami, FL
33132
Facebook Evite
As part of the first-ever DWNTWN Art Days event, Wine by the Bay presents WinePhoto: An International Photography Exhibit, Edition 2011.
WinePhoto is an international photography contest sponsored by Blan, Italy – one of Italy's leading wholesalers of European wine. Since its first edition in 2004, Balan's WinePhoto has issued 43 awards and 11 special mentions to professional and non-professional photographers representing 65 countries. The WinePhoto exhibit will be presented in the United States for the first time at Etra Fine Art in Miami's Design District and Wine by the Bay in Downtown Miami from September 6 to 8, 2012.
WinePhoto was originally conceived as a means to express how photography relates to wine in both conventional and unconventional ways. Over the years, the contest has evolved and is now a collection of stories about the contemporary world. Each year a theme aims to project a different point of view. The 2012 theme is based on William Faulkner's Light in August "Diaries – Memory believes before knowing remembers." The 2011 theme is: Renaissance, stories that could not have been."
The exhibit is curated by WinePhoto Creative Director, Diego Orlando, a professional photographer from Venice, Italy and Photo Editor & Special Projects for Burn Magazine.