South Florida Kick Off for White Aisle Foundation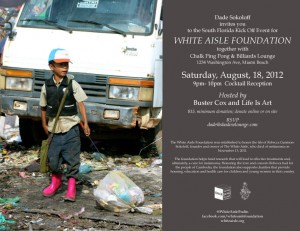 Saturday, August 18, 9pm-10pm
Chalk Ping Pong & Billiards Lounge
1234 Washington Ave
Miami Beach, FL 33139
whiteaisle.org
facebook.com/TheWhiteAisleFoundation
@WhiteAisleFndtn
$15 minimum donation
RSVP to dade@shadowlounge.com
Dade Sokoloff invites you to the South Florida Kick Off Event for the White Aisle Foundation.
Hosted by Buster Cox and Life Is Art
The White Aisle Foundation was established to honor the life of Rebecca Garrison-Sokoloff, found and owner of The White Aisle, who died of melanoma on November 13, 2011.
The foundation helps fund research that will lead to effective treaments and, ultimately, a cure for melanoma. Honoring the love and concern Rebecca had for the people of Cambodia, the foundation also supports charities that provide housing, education and health care for children and young women in that country.