Cremata Gallery LINES: contemporary geometric abstraction Opening Reception
Friday, August 10th, 2012 – 7:00-10:00 pm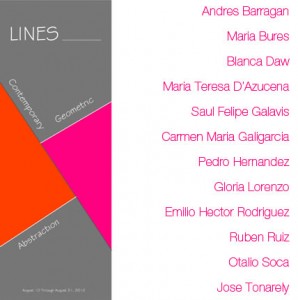 Cremata Gallery
1646 SW 8 St.
Miami, FL 33155
RSVP: lourdes@crematagallery.com
Exhibit Dates: August 10 – September 8, 2012
Also open on Friday, August 31st , 2012 – 7:00-11:00 pm
during Viernes Cultural / Cultural Friday Art Walk
Painting, Drawing, Sculpture, Photography, Installation, Multi Media
Participating artists : Andres Barragan, Maria Bures, Blanca Daw, Maria Teresa D'Azucena, Carmen Maria Galigarcia, Saul Felipe Galavis, Pedro Hernandez, Gloria Lorenzo, Emilio Hector Rodriguez, Ruben Ruiz Caballero, Otalio Soca, Jose Tonarely
Geometric abstraction is the language that unifies this art exhibit.
Artists of various persuasions, career profiles and nationalities come together for the purpose of producing artwork with clean lines and simplicity of pure forms.
For some of them this premise is in line with their personal pathway.
For others the invitation is a challenge: the challenge of articulating – tempering, reconciling- their vocation as expressionist, figurative or abstract painters, with the paradigms of an art based on the beauty of chromatic and structural elements.
In both cases this starting point leads to an act of creation, to search for individual solutions, to dialogue with a certain tradition, discovery of skills and preferences maybe previously unexplored.
By voluntarily renouncing to their personal vocabulary, the artworks included in this exhibition draw our attention to the beauty that lies not in imitation of the real world, but in the composition itself and in organizing the lines in the space.
Valet Parking available at the door
Reception and private preview by invitation
Cremata Gallery is located at 1646 SW 8th St Miami, Florida 33135 and is open by appointment when not holding a reception.
See all about the Viernes Culturales and events in Little Havana at:
http://www.viernesculturales.org
http://www.littlehavanaguide.com