for artists…….BY ARTISTS present the Photography Book Launch of Visual Motivation by Jose Alexzander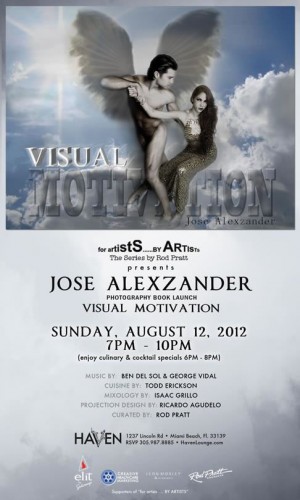 08/12/2012, 7:00pm
Haven Lounge
1237 Lincoln Rd
Miami Beach, Fl 33139
Facebook Evite
RSVP: 305.987.8885
www.havenlounge.com
Installation #30 of 'for artists…….BY ARTISTS' present the Photography Book Launch of "Visual Motivation" by Jose Alexzander in Red Carpet fashion for the weekly DIGITAL ART EXHIBITION @ Haven.
The objective of 'for artists……BY ARTISTS' is to create a social colony for artists from all disciplines of the arts with the focal point being on painters, photographers, and sculptors. Utilization of the technology at Haven and maximizing its potential is what sets this weekly exhibition apart from others.
elit by STOLI is a proud supporter of 'for artists…..BY ARTISTS'
Jose Alexzander has been worldwide trained in all the aspects of the beauty industry. Photographer, Photoshop Guru, Hair Designer, Make-Up artist and Stylist for more than 15 years. Mostly self-taught, but with formal training in Noble Desktop (New York) and Miami International University of Art & Design and many other workshops in Europe and Asia.
Jose has been working on, the much anticipated, photography book for over 2 years. His attention to detail and having a collection of what he likes to call "the perfect shots" is what makes this book standout.
Join us for this red carpet affair as we present a Live Jazz performance by Spirit & Soul.
www.josealexzander.com
Dinner Reservations are highly recommended for this event.
Culinary Cuisine prepared by Chef Todd Erickson
elit by STOLI…Cocktail Creations by Mixologist Isaac Grillo
Music Provided By: Ben Del Sol & George Vidal
Supporters: Creative Healthcare Marketing
Projection Design By: Ricardo Agudelo
Curated By: Rod Pratt