Miami's Independent Thinkers & 'for artists…By Artists' present an animated exhibit by MIA Animation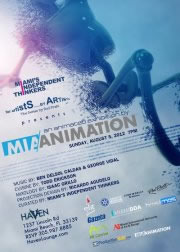 08/05/2012, 7:00pm
Haven Lounge
1237 Lincoln Road (between West & Alton on Lincoln)
Miami Beach, Fl 33139
Facebook Evite
RSVP: 305.987.8885
www.havenlounge.com
Miami's Independent Thinkers in collaboration with 'for artists…..BY ARTISTS' (The Series by Rod Pratt) presents its 29th installation at Haven South Beach on Sunday, August 5th, 2012 (7pm-11pm) featuring an animated exhibition by MIA Animation.
The objective of 'for artists……BY ARTISTS' is to create a social colony for artists from all disciplines of the arts with the focal point being on painters, photographers, and sculptors. Utilization of the technology at Haven and maximizing its potential is what
sets this weekly exhibition apart from others.
elit by STOLI is a proud supporter of 'for artists…..BY ARTISTS'
MIA Animation Conference & Festival 2012 is an industry conference that focuses on Computer Animation, Gaming, Visual Effects and Motion Graphics, Film, Web Design and Visual Arts. We have brought world-renowned industry speakers that offer master classes along with software demos and multiple panels. It has been designed to be a forum for active networking and practical information exchange with strong commitment and emphasis in education while developing and nourishing new talent.
October 20 & 21, 2012
Miami International University of Art & Design
1501 Biscayne Blvd Ste 100
Miami · FL
www.miaanimation.com
info@miaanimation.com
www.facebook.com/ANIMIAMI
Miami's Independent Thinkers is a homegrown organization dedicated to the unity, development and promotion of Miami's flourishing art community. Our assemblage embraces established, emerging and young artists, visionaries and intellectuals.
Our mission is to provide a sustainable support base for Miami's creative community, including: painters, photographers, filmmakers, sculptors, animators, writers, musicians, performance and new media artists.
Dinner Reservations are highly recommended for this event.
Culinary Cuisine prepared by Chef Todd Erickson
elit by STOLI…Cocktail Creations by Mixologist Isaac Grillo
Enjoy Industry Bottle Specials
Music By: Ben Delsol Caldas & George Vidal
Cuisine By: Todd Erickson
Projection Designed By: Ricardo Agudelo
Curated By: Miami's Independent Thinkers