Electric Summer
Sunday's in August, 9am, 10:30am
Christ Fellowship Church Coral Gables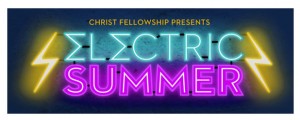 The Miracle Theatre
280 Miracle Mile
Coral Gables, FL 33134
www.cfmiaimi.org/electric
The Electric Summer series was launched on June 24th and will heat up Miami through September 9th. Each of Christ Fellowship's six (6) campuses will feature fun for the entire family! Members and guests will enjoy incredible live music, family style BBQs, ice cream "Sundays", sports days, as well as a powerful lineup of guest speakers.
August guest speakers include Iranian born, David Nasser, author of "A Call to Die" – Nasser's first self published book which has sold more than 120,000 copies. Nasser inspires more than 700,000 people a year as he shares his amazing journey "From Islam to Christ." The month of August will continue to be "Electric" as Ed Stetzer, President of Lifeway Research and author of "Subversive Kingdom: Living as Agents of Gospel" will lead worship service.
The Electric Summer series is designed as an opportunity for the church to welcome the whole family and provide fun, safe and powerful activities for everyone to enjoy. Christ Fellowship has six campuses, Downtown, Palmetto Bay, West Kendall, Homestead, Redland, and the new Coral Gables campus, all of which will participate in the fun-filled series.