Beach Lounge Bar Presents Made In Rio: Hell & Heaven Edition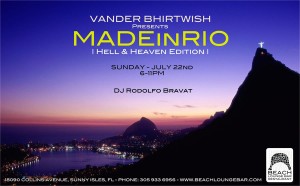 Sunday, July 22, 2012, 6:00 pm – 11:00 pm
Beach Lounge Bar
18090 Collins Avenue
Sunny Isles, Florida 33160
Facebook Evite
Join Beach Lounge Bar and Vander Bhirtwish as they present Made in Rio: Hell & Heaven Edition. An event unlike any other, Made in Rio will bring a little taste of the biggest and most anticipated Brazilian festival of the year, Hell & Heaven, to Miami on Sunday, July 22nd with special guest DJ Rodolfo Bravat.
Listen and dance to the Electro and Progressive House sounds of DJ Rodolfo Bravat as he brings a little piece of Brazil to Miami for the night. Attendees will feel as if they have been transported to Rio while enjoying Beach Lounge Bar's traditional Brazilian dishes like the popular Escondidinho, Brazilian Ceviche and Ahi Tuna Tower with avocado, jasmine rice and mango sauce. Beach Lounge Bar's signature cocktails including the Seasonal Caipirinha, Coconut Beach, and Mango and Strawberry Sake will also be served.
Space is limited so guests interested in attending should RSVP to Tiffany at rsvp@popprevents.com or at 305.979.4694.