Art Live Fair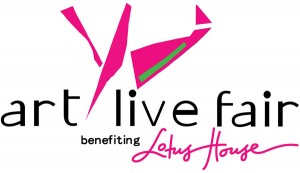 10/26/12- 10/28/12, times vary by day
Coconut Grove Convention Center
2700 S. Bayshore Drive
Coconut Grove, FL 33133
www.artlivefair.org
Art Live 2012 is an interactive, performance based, contemporary "art happening" and fair in which artists and exhibitors are invited to share the creative process unfolding spontaneously in every form of artistic medium and to the extent possible, engage the fairgoers in the the creative process. All proceeds from Art Live Fair directly benefit Lotus House Women's Shelter.
Like the Wynwood Art Fair launched on the streets last year, the Art Live Fair will be an art happening, where the artists and audience work together to create works of art live and spontaneously. The Fair will be part spectacle, part experiment, and include every form of artistic medium working both indoors and outdoors of the new venue at the Coconut Grove Convention Center. The fair will showcase Miami artists this year as well as artists from all over the country.
Constance Collins explained their goal to launch Miami's fall 2012 art scene officially with the Art Fair Live. "So often we are asked about Miami's art scene outside the context of the big commercial art fairs in December. With the Art Live Fair, we want to showcase Miami artists and the community coming together, launching the season with art that is both fun and thought-provoking, raising awareness for those who are served at the shelter at the same time we make art. The theme of the fair this year is ~ "we are all one" and the artists will work closely with the audience to explore our shared humanity and generate more resources that provide creative solutions to homelessness."
Constance Collins extended thanks and gratitude to Martin Margulies and the Margulies Collection at the Warehouse for being the grand sponsor of the fair as well as to the lead sponsors: City of Miami, Event Star, Sotheby's, Bank of America, Eulen America, WPBT Channel 2, Miami.com and the Miami Herald, Utrecht, Home Depot, Miami Dade College and Miami Magazine. Making the extraordinary artistic event possible.
The illustrious list of participants in the Fair include the Miami Art Museum, Museum of Contemporary Art/North Miami, Patricia & Phillip Frost Art Museum, Bass Museum, and Wolfsonian Museum, along with the art departments of Florida International University, University of Miami and Miami Dade College. They are joined by the blockbuster private collection of Martin Z. Margulies, along with Miami artist residencies represented with exhibitions of Legal Arts and Art Center South Florida.
New to the fair are both Centro Cultural Espanol and the German Consulate General representing their cultures' artists stationed in Miami.
The fair's guest curators include Antonia Wright performance curator, Giselle Devera photography curator, P. Scott Cunningham literary curator, Primary Flight street art curator, Robert Chambers sculpture curator, along with video curator Grela Orihuela.
Ms. Wright explains the collaborative curatorial effort: "Our goal is to dissolve the boundaries between art and life – to open our hearts, learn, love and play with art. We wanted to give Miami's contemporary art community a venue to reach out to the community, to engage the fair-goers with an art experience like no other. We like to say, "don't just see art – be it at the Art Live Fair!"