Fort Lauderdale Children's Theatre Presents City Theatre and Orlando Repertory Theatre Production of THE BRAND NEW KID, Based on the Book by Katie Couric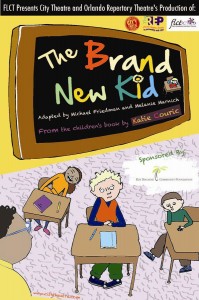 Friday, June 29 7 PM
Saturday, June 30 11 AM and 2 PM
Fort Lauderdale Children's Theatre
Galleria Mall
2542B E Sunrise Boulevard
Fort Lauderdale.
(954) 763-6882
www.flct.org
Tickets for The Brand New Kid are $12, with free chaperone tickets and discounted group rates.
For tickets, please call (954) 763-6882 or purchase online at www.FLCT.org.
Children's Musical Addresses Teasing and Acceptance
The Fort Lauderdale Children's Theatre is proud to present the City Theatre and Orlando Repertory Theatre production of THE BRAND NEW KID, based on the popular children's book by Katie Couric. Performances are Friday, June 29 and Saturday, June 30 at the Fort Lauderdale Children's Theatre at the Galleria Mall.
This delightful, family-friendly musical offers children a fun, lighthearted lesson in being different and overcoming teasing through the power of acceptance and friendship.
Adapted by Michael Friedman and Melanie Marnich, The Brand New Kid recounts the story of Lazlo S. Gasky, who has just moved to the United States and is set to start his first day in the second grade at a new school, in his new country.
Lazlo soon becomes the target of teasing by the other kids; for the "funny" way he talks and the way he looks. However, when popular classmate Ellie McSnelly decides to take a chance on him and be his friend, the other classmates learn that it is our differences that make us great.
"As loving and wonderful as they are, children can sometimes be cruel," Katie Couric says. "Kindness can be taught, and perhaps we can all do a better job helping our children learn about tolerance and inclusion." This idea is central to The Brand New Kid and extends to include children who are misunderstood and feel left out for any number of reasons.
Directed by Jeff Revels, The Brand New Kid is generously sponsored by the Key Biscayne Community Foundation, whose mission is to improve the quality of life in Key Biscayne and the surrounding area. "City Theatre was founded on the sands of Key Biscayne and includes many residents on its board," said Susan Westfall, City Theatre co-founder and Key Biscayne resident. "For more than 17 years, the Foundation has proudly presented school tours, new play readings and performances to Key Biscayne audiences. Thanks to their support, City Theatre is now able to share a message of tolerance to audiences throughout South Florida."
Following the June 29-30 run at the Fort Lauderdale Children's Theatre, additional performances of The Brand New Kid will take place at the Orlando Repertory Theatre, July 19 – 29.