Locust Projects presents One Night Stands Corzo Social & Southernmost Situations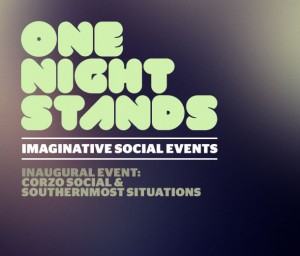 Thursday, June 21 from 7-9pm
Ricochet Bar & Lounge
3250 Buena Vista Blvd #122B
Miami, FL 33127
RSVP Required: info@locustprojects.org
Suggested Donation is $10 Locust Projects Members, $20 non-members. All proceeds will support future programming at Locust Projects.
Locust Projects presents ONE NIGHT STANDS, a series of imaginative social events.
For one night only at venues across the city, each event will feature a collaboration with creative producers and emerging entrepreneurs approximately every two months.
We are pleased to announce the inaugural ONE NIGHT STAND, "Corzo Social & Southernmost Situations" which will take place Thursday, June 21 at Ricochet Bar and Lounge.
Join us for complementary Corzo tequila cocktails and Grolsch beer from 7-9pm as Miami-based creative collective, Southernmost Situations animates the event.
**For all you Miami Heat fans: the game will be promptly broadcasted on Ricochet's gorgeous televisions at its scheduled start time at 9pm.**
Locust Projects is a not-for-profit exhibition space founded by three Miami artists in 1998 in order to provide contemporary visual artists the freedom to experiment with new ideas and methods without the limitations of conventional exhibition spaces. Artists are encouraged to create site-specific installations as an extension of their representative work, and Locust Projects offers them a vibrant Miami experience to develop their ideas. Locust Projects is committed to offering an approachable and inviting venue for the Miami and international art community to experience the work and meet the artists. http://www.locustprojects.org/