Masterworks at Artopia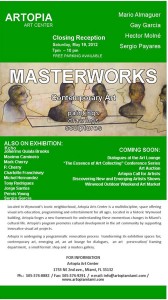 May 19, 2012, 7:00 pm to 10 pm
Artopia art center
1753 NE 2nd ave.
Miami, FL 33132
www.artopiamiami.com
Closing Reception. Since the turn of the New Year, the Artopia Art Center has been energized with contemporary art through a series of artworks created by a group of well-respected artists, represented in the exhibition Masterworks.
Contemporary artists Mario Almaguer, Gay García, Hector Molné, Sergio Payares and Jose Orbein have filled the gallery with their vibrant artworks for a unique exhibition for months, and now the show comes to a close.
An exhibition filled with symbolism, merging obvious reality with a diversity of issues such as religion, migration, nostalgic dreams expressed in paintings, drawings mixed media and sculptures.
Located in Wynwood's iconic neighborhood, Artopia Arts Center is a multidiscipline, space offering visual arts education, programming and entertainment for all ages. Located in a historic Wynwood building, Artopia forges a new framework for understanding these momentous changes in Miami's cultural life. Artopia's program promotes cultural development in the art community by supporting innovative visual art projects.
But also as part of the works exhibited at ARTOPIA are the works of Miami artist; Maximo Caminero, Joherms Quiala Brooks, P. Cherry, Tony Rodriguez, Mark Cherry, Michel Hernandez, Kco, Sergio Garcia, Pervis Young and Jorge Santos.
Artopia is undergoing a programmatic renovation process transforming its exhibition spaces for; contemporary art, emerging art, an art lounge for dialogues, an art preservation/ framing department, a small format shop and a masters gallery.
The renovation at ARTOPIA through its engagement in arts and culture brings unique events, exhibitions and programs for artists, collectors and Miami art audiences. Coming soon : the Dialogues at the Art Lounge; "The Essence of Art Collecting" Lecture Series, Art Auction, Artopia Call to Artists, Discovering New and Emerging artists shows and the Wynwood Outdoor Weekend Art Market, enhancing access to the arts and promoting cultural awareness in Miami.