Maite Makeup Company Launch Reception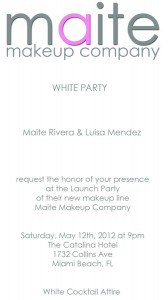 May 12, 2012, 9pm
Catalina Hotel
Miami Beach
"Maite Make Up Company" will launch and unveil their cosmetic line with a VIP Cocktail Reception and Showcase
This private event will host special guests such as Miss Haiti Universe 2010, Sarodj Bertin, who has a Limited Edition collection within their line; Fashion Designer Alex Hamdan as the Mistress of Ceremony; Paige Rose Figueira, winner of "The Maite Make Up Company Model Search"; WPLG News Anchor Neki Mohan, as well as many other special guests. In addition, Miss Bertin will be signing autographs of her new calendar.
Dominican Makeup Artists Maite Rivera and Luisa Mendez, whom have had a passion for makeup their whole lives, created "Maite Make Up Company". Being best friends and mothers added a special take to their approach in the makeup world. "Makeup should be wearable, flattering and good for you," says Maite Rivera, President and CEO of "Maite Makeup Company". Their makeup line includes mineral and regular makeup allowing their clients a choice. "We love all the trends going on right now; color blocking, pastels and nude lips, but we are also big advocates of "make what works for you" your trend. That is precisely why we are launching our first collection with colors that flatter every woman, and every complexion, from mommies on the go, to high fashion models." "It's amazing to see what a little makeup can do for someone's self-confidence no matter their age." says Luisa Mendez, Vice President and COO of Maite Makeup Company.
Their makeup brand includes a full line of highly pigmented mineral makeup with high-end ingredients, environmentally friendly packaging and labeling. They are FDA approved and are not tested on animals. Gentle on sensitive skin and hypoallergenic.
The entire makeup line will be available late May on www.maitemakeupcompany.com and in select Salons and Spas, such as the very luxurious Lacuna Hair Salon & Spa in Miami Gardens, FL. It isn't surprising that they have been intricately involved with every aspect of their company, from product development to art direction and marketing.
Whether you are shopping online, booking a makeover or scheduling a makeup workshop, they will ensure when you are done you feel like the best version of yourself.
For more information on this event contact Picture Perfect Planning at 786-206-1544 or send an email to Lourdes@pictureperfectplanning.com