The District Factory A Glimpse Behind The Assembly Line
Saturday, May 12, 2012, 7PM-10PM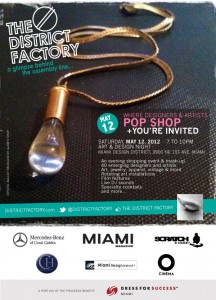 The District Factory
3900 NE 1st Avenue
Miami, FL 33137
www.districtfactory.com
*Free To The Public
Each month, The District Factory shines a spotlight on the emerging designers and artists who are single-handedly manufacturing the hottest trends. Showcasing what's in stock, items available for sale include art, jewelry, apparel, vintage, and more.
You're invited to check out Scratch DJ Academy Miami Graduates, DJ Zel & Scotty K, spinning at The District Factory, on May 12th from 7-10pm, where designers & artists "Pop Shop" in Miami's Design District. Guests will sip on specialty cocktails as they enjoy an evening of shopping, art and music. Featuring 40 emerging designers & artists displaying vintage and hand crafted jewelry and apparel, a rotating art installation, film features and live DJ sounds from Scratch DJ Academy Graduates.
To add, The District Factory also features monthly rotating art installations, specialty cocktails, sounds by the pros at Scratch DJ Academy, an indie "Factory Flick" courtesy of O Cinema, and so much more.
Partners of this eagerly anticipated shopping event and mash-up also include Miami Design District, Miami Magazine, and Mercedes-Benz of Coral Gables who will showcase a beautiful selection of vehicles available to Factory fans. Receiving a portion of the evening's proceeds is Dress for Success Miami. To shop The District Factory or for exhibition opportunities, learn more by visiting www.districtfactory.com.