Latin Night at Balans Lincoln Road
Thursday, May 3, 2012, 8 – 11 p.m.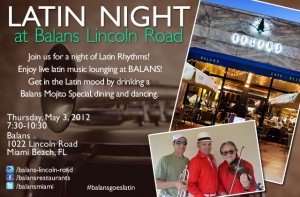 BALANS Lincoln Road
1022 Lincoln Road
Miami Beach, FL 33139
Facebook Fan Page
Latin Night returns to BALANS Lincoln Road this Thursday, May 3rd starting at 8 p.m. Sip a Mojito Special, bring your dancing shoes, and get down on the 'road with the sounds of Havana Soul!
Havana Soul, a trio of Cuban musicians will be playing at BALANS Lincoln Road to welcome the restaurant's new Latin Night. The group will play live music from the Caribbean and Latin America in the restaurant. There will be no cover charge and BALANS will be offering its signature Mojitos at $6 throughout the night.
Havana Soul most recently played at the opening night of the Miami Film Festival at the Freedom Tower as a 12-musician band. The Latin Night at Balans will have a trio from the group playing dance numbers ranging in genre from Salsa, Rumba, Merengue, and Mambo.
Visit BALANS Facebook page at www.facebook.com/BalansRestaurants or Twitter @BalansMiami for more information. No Reservations Needed.