6th Street Container invites you to meet the artist Jake Fernandezat the opening of his exhibition titled"The Perpetual Frieze – Photo Mosaic 1984-2011"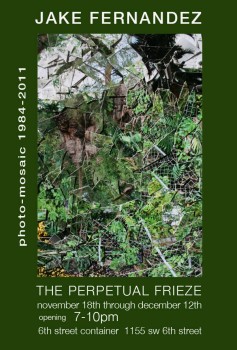 November 18th, from 7-10pm.
6th street container
1155 (rear) SW 6th street
Miami, Florida 33130
This exhibition will run through December 12th.
Jake's work has always impressed me. He takes chances and defies labeling, equally comfortable creating a technically complex painting as well as burning it when completed. Along the way he has won prestigious awards and accolades from museum directors and critics. He was praised by many, including Marcia Tucker from the New Museum. He has worked and collaborated with music icon Little Richard and Beatle George's sister Louise Harrison. He was a co-founder of the prestigious Amy Merosa Foundation, and collaborated with Julio Mateo on his "Big Red Project" re-enactment in the NYC west side piers. His film "Las Meninas" was only shown once, as the audience's reaction was reminiscent of a "Two Mattress" performance in its ferocity. Jake is currently working on a series of videos that chronicle the life and times of the late philosopher-artist and cult figure Jack Copons tentatively titled "Let the Monster Breathe".
His work has been exhibited in numerous galleries and museums, including ACA Galleries, Westwood Gallery, Robert Friedus Gallery and Now Galleries in New York; Florida State University Museum, Jacksonville Museum of Art and Tampa Museum of Art, among many others. He had a one-man retrospective at the Museum of Art in Ft. Lauderdale titled "Ethereal Journeyman" in 2001.Jake Fernandez brings us a series of collages titled "The Perpetual Frieze" that he started in 1984 and has been working with to the present, currently reaching nearly15 feet. They take us into an unknown world of landscapes (rural and urban) which challenges our interpretation and perspective, depending upon our viewing distance from the artwork. From one vantage point they appear as landscapes; the closer one gets, the more intricate they become, as if the urban environment was weaving its way through the woods.
-Adal Delgado, Chief Curator