KCC Productions and the Van Dyke Cafe present Artist of the Month Carlos Diaz, formerly of Vocal Sampling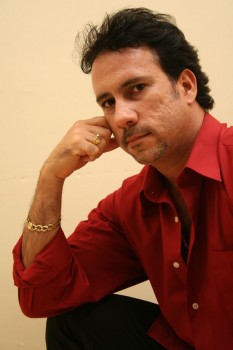 Thursday, November 17, at 9 PM
The Van Dyke
846 Lincoln Road
South Beach
For more information, call 305-534-3600 or visit thevandykecafe.com.
Carlos Diaz Laportilla graduated from the National School of Arts in Havana, Cuba in the Percussion and Choir programs. For over 20 years he has participated in a wide range of musical performances around the globe including Japan, Canada; European countries such as France, Italy, Belgium, Spain, Switzerland and Holland and in the South American countries of Argentina, Colombia, Brazil and others.
From 1989 to 1997 he was heavily involved in the vocal industry and was one of the creators of the Vocal Sampling Group, nominated for a Latin Grammy in 1995. Vocal Sampling is an all-male a cappella musical group from Cuba. They are distinctive for their rich a cappella adaptations of traditional Cuban salsa music, son, and Rumba, vocally imitating the piano, cowbell, conga, bass, and trumpet, used originally in such songs. Since coming to Miami, he founded his own vocal group, the Dlaportilla Sampler Show, in 1997, and has also worked with countless international artists and performers such as Oscar De Leon, Ruben Blades, Quincy Jones, Celia Cruz and others.