"A Sophisticated Winter" Runway with Designers Gucci, Kiki Hamann, and Baron Siomanto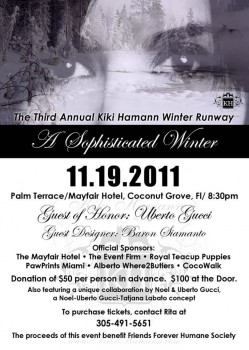 11/19/11, 8:30pm
Mayfair Hotel and Spa
3000 Florida Avenue
Coconut Grove, FL 33133
www.kikihamann.com
Heads will turn as Kiki Hamann lights up the runway with her exuberant and "Sophisticated" winter collection. With elegance and a powerful attitude in mind, Kiki Hamann Canine Couture brings dominance once more to the fashion industry of the canine world with a remarkable line of luxury delivering utility and comfort with an unforgettable, incomparable beauty that can only be made by Kiki Hamann in her Sophisticated Collection.
From exquisite handbags and magnificent Furoshikis, to chic leashes and aesthetic cuffs, the Sophisticated Collection by Kiki Hamann Canine Couture offers Fashionistas around the globe an array of eclectic design. The previous trends of simple dog carriers in all too dull appearances and boring materials are no more. Now is the time of luscious details, intricate jewelry, delectable patterns and impeccable love.
In collaboration with other monumental designers Uberto Gucci and Baron Siamanto, Kiki Hamann prepares another spectacular fundraiser for the Friends Forever Humane Society, taking four-legged friends from an innocent death row to the caring hands of a loving human companion. A passionate heart and exceptional sense of style bound in splendor make this runway a joy to behold and an entertaining experience for all.
In a congenial contribution, Italian Designer Uberto Gucci will be displaying the launching Collection "La Collaborazione" Prepared with USA business partner Tatjana Labato and Miami local artist "Noel" offering to Kiki Hamann's Guests the viewing of the paintings, based on his family heirlooms. Uberto Gucci's daughter Drusilla Gucci will also be walking the runway with Prikly, the family Chihuahua. Baron Siamanto, a designer whose fashion aptitude knows no limits, is taking to the runway outfitting the human models in dazzling dresses, and stunning suits. Sharing a connate empathy for the position of homeless dogs, Baron Siamanto is bringing Chala, a lovely family rescue to walk the runway.
Kiki Haman's Charity of Choice, "Friends Forever Human Society" is a proud part of the Maddie's Pet Rescue Project in Miami, FL, a coalition of humane organizations in Miami-Dade County working to end the euthanasia of healthy and treatable dogs and cats in County shelters. This is a no kill humane society striving to find loving families for canine companions.