Join Us As We Kick Off Our Inaugural Season! South Miami-Dade Cultural Arts Center Presents Brazz Dance Theater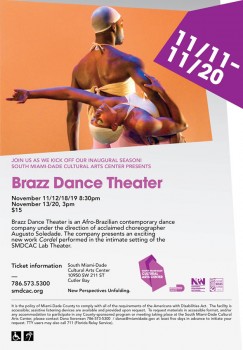 November 11/12/18/19 8:30pm
November 13/20, 3pm
South Miami-Dade Cultural Arts Center
10950 SW 211 ST, Cutler Bay
For information call 786.573.5300
$15
For ticket information visit smdcac.org or call 786.573.5300.
New Perspectives Unfolding.
Brazz Dance Theater is an Afro-Brazilian contemporary dance company under the direction of acclaimed choreographer Augusto Soledade. The company presents an exciting new work Cordel performed in the intimate setting of the SMDCAC Lab Theater.