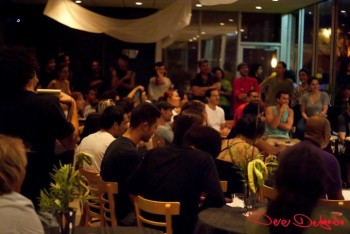 Words & Wine
June 22nd 2011, 8:30p
PAX (Performance Arts Exchange)
337 SW 8th Street (directly under the 95 overpass on your left)
Miami, FL
Facebook Evite.
Ladies, Gentlemen, honey badgers and the like:
Words & Wine is back and being hosted at PAX (Performance Arts Exchange)
If you have not had the pleasure of witnessing it for yourself, PAX is a lovely, up coming venue that offers local and international talent. It is very cozy, well lit atmosphere where everyone can be themselves.
Very exciting stuff happening this Summer. We just celebrated our one year anniversary and let me tell you we could have not been given a better birthday gift then the Award for Best Open Mic in 2011 published by the Miami New Times!
This is just the very beginning, join us for our Open Mic EVERY WEDNESDAY! Let's get together and continue to share good vibes and creativity. Miami is redefining it's Art scene and our movement has created a pavement for poets, musicians, dancers, thinkers, lovers, and people who just need to get away and express themselves freely.
Let's once again get together, drink some wine, share some thoughts and be happy.
Special Featured Artists:
Forrest Darden
Ohme
Starts at 8:30p
Open Mic List opens at 9p
No Cover
Great Drink Specials Full Bar
Free Parking
18+ to party 21+ To Drink
Please help to continue this event at such a lovely place like PAX. Please do not bring your own drinks, they have a full bar inside. Let's Have a great time responsibly and keep this venue clean and beautiful.
Email: Art_is_life111@hotmail.com