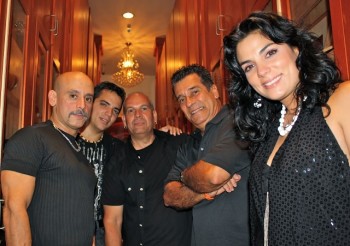 KCC Productions and the Van Dyke Cafe present Hot Havana Nights with Deskarga Jam Band
Saturday June 18, at 9 PM
The Van Dyke
846 Lincoln Road
South Beach
For more information, call 305-534-3600 or visit thevandykecafe.com.
Deskarga Jam Band….Timba meets Latin Jazz. Composed of Cuban-American musicians with a unique free style of playing, the musicians individually have performed with Julio Iglesias, Jon Secada, Los Sobrinos, Tipica Tropical, among others. Deskarga's repertoire covers everything from Benny Moré, Los Van Van, Buena Vista, and NG La Banda to Celia Cruz. The band has played to the greater Miami dance audience in venues such as Alcazabas, Macabi Cigar Bar, Mojitos & Calle Ocho Festival among others, as well as numerous private and corporate events.
Deskarga have earned a reputation for exceptional musicianship and their exciting energetic live performances. They can captivate audiences' hearts with their soulful montunos, explosive percussion riffs, and melodic vocal improvisations.