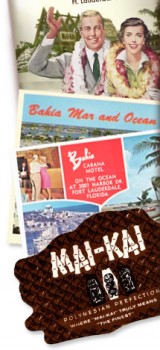 Tiki Kiliki Productions presents The Hukilau 2011
June 9 – 12, 2011, Ft. Lauderdale, Florida
Bahia Mar
Bahia Cabana
The Mai-Kai Restaurant
Fort Lauderdale
Celebrating 10 years of Mid-Century and Polynesian Pop Culture! The Official Celebration of the Mai-Kai's 55th Anniversary!
Purchase Tickets Now!
The gardens are lush and the Molokai girls are waiting to serve you!
Don't miss Art & Alligators at the Tiki Treasures Bazaar!
Please visit Freda and Jim from Art and Alligators at the Tiki Treasures Bazaar space # 35 for one of a kind VINTAGE Hawaiiana, Tiki mugs, Hawaiian Shirts, Records, Witco, and all things Tiki. We also have great vintage lamps and artwork including Giclee prints on canvas of the original McVicker's Polynesian Room Mural as pictured above. The edition is limited to only 100 so don't miss out !!! This is the only printing!!! Great deals available Thursday thru Saturday. We are in the same location as last year and we will be excited to see ya'll again this year!
Buy Your Shuttle Tickets Now!
Yellow Brick Roads is The Hukilau's official transportation to and from the Mai-Kai. Travel to the Mai-Kai round trip for only $17. Â A real bargain so that no one has to worry about that drive home.
Latest Schedule for The Hukilau
Please Click Here to download the latest PDF version of the schedule so you can plan your Hukilau weekender Now!
The first dinner show at the Mai-Kai is SOLD OUT! If you haven't yet made your reservations for the 2nd Dinner Show do so now! Call 954-563-3272 to celebrate with all other Tikiphiles on Saturday, June 11,2011!