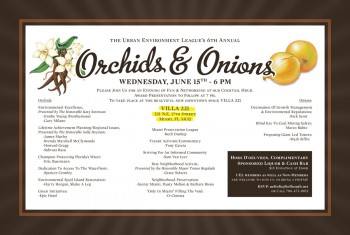 Urban Environment League's 6th Annual Orchids & Onions Awards Presentation
June 15, 2011, 6pm
VILLA 221
221 NE 17th St.
Miami, FL 33132
www.uel.org
RSVP to uelinfo@bellsouth.net | 786-472-0011
For over 10 years, the Urban Environment League has supported environmentally responsible development that focuses on the protection of the waterfront, public places, and historic and natural areas throughout Miami-Dade County.
In its 6th Annual Orchids & Onions Awards Ceremony, the UEL will recognize the various individuals and groups that are complimenting this important mission to make Miami a more vibrant city made up of healthy neighborhoods to live, work & play.
The awards ceremony will take place at the beautiful new downtown space of Villa 221. Past award recipients, elected officials and UEL board members will present the Orchid awards, along with the presentation of the Onion awards that are given to individuals who have made negative impacts to our community, or are in the midst of such challenges.
Hor D'oeuvres + Complimentary Liquor + Cash Bar with $15 Donation