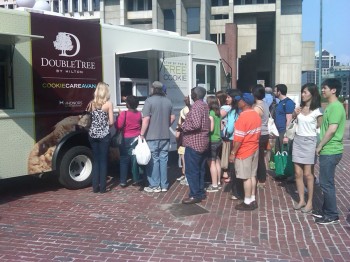 DoubleTree by Hilton Cookie CAREavan Tour
Friday, June 10, 12 p.m. to 6 p.m.
Cocowalk
3015 Grand Avenue
Coconut Grove, FL 33133
Facebook Page.
Doubletree By Hilton Sweetens Summer Travel With 50-City Cookie Careavan Tour Stopping in Miami, Friday, June 10
DoubleTree by Hilton Hotels is kicking off a nationwide tour to celebrate the 25th anniversary of its iconic chocolate chip cookie. From Atlanta to Austin, Miami to Minneapolis and St. Louis to Seattle, a specially designed food truck will embark on a 10-week, 10,000-mile, 50-city journey to deliver tens of thousands of smiles to people across the country through the pleasant surprise of a sweet chocolate chip cookie treat.
On Friday, June 10, from 12 p.m. to 6 p.m., the Cookie CAREavan will arrive at Cocowalk in Miami to hand out free cookies while supplies last. At every stop along the tour, people can enjoy a free chocolate chip cookie in the summer sun, share their stories about the beloved all-American treat, learn more about the caring connection between DoubleTree by Hilton and the chocolate chip cookie, and find out about the DoubleTree by Hilton Cookie CAREavan Sweepstakes to win great prizes all summer long.
Some of the weekly prizes include tins of DoubleTree by Hilton cookies, Hilton HHonors bonus points and DoubleTree by Hilton weekend getaways, as well as the grand prize of a five-day/four-night vacation and airfare for two to any DoubleTree by Hilton property in the U.S.
DoubleTree by Hilton is celebrating the 25th anniversary of its signature chocolate chip cookie this summer by doing something that many people have always dreamed of doing – taking the ultimate road
trip across America.
Since 1986, the DoubleTree by Hilton chocolate chip cookie has represented a warm, friendly welcome for travelers. Every guest who checks into one of the more than 250 DoubleTree by Hilton hotels and resorts in 17 countries across five continents receives this same signature, sweet treat at check-in. The hotel brand anticipates sharing more than 250,000 cookies beyond their hotel doors and out in 50 communities this summer season to celebrate the cookie's silver anniversary. Some surprise stops to deserving community groups and charities are also planned along the route.
Follow the Cookie CAREavan on Facebook (Facebook.com/DoubleTree) to track the tour and check out photos, videos and live tweets from the road. DoubleTree by Hilton's Cookie CAREavan tour is a proud sponsor of Food Network's The Great Food Truck Race, which premieres on August 14th at 10p/9c.