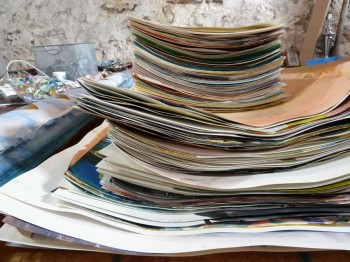 Twelve Days of Painting
June 18, 2011, 6 – 10 p.m.
Flagler Arts Space
172 West Flagler St., 33130
flaglerartsspace.com
Twelve Days of Painting
Miami, FL – Flagler Arts Space will open its 'Twelve Days of Painting' exhibit from 6 – 10 p.m. on Saturday, June 18, at 172 W. Flagler St., across from the Miami Art Museum.
This show will feature paintings created by Geddes Levenson and Annie Blazejack during a twelve-hours-per-day, twelve-day performance. By the project's end, each artist painted 364 paintings. The works sprawl across the gallery walls, askew and overlapping. Painted on paper, sized from 9" x 12" to 4' x 6', they explore abundant themes, imagery, and methods of paint application. The show will remain open by appointment through June 30th.
The two artists regularly invent painting projects, sometimes creating situations that generate abundant and energetic works, sometimes collaborating on simultaneous performances to connect them across their two cities, Miami and Brooklyn. They have been painting together since childhood.
The Flagler Arts Space gallery and studios were opened by a cooperative of eight local artists working to build welcoming and interactive exhibits in downtown Miami. Space has been donated by The Thomas Center, a real estate company committed to enlivening downtown Miami.
For more information, email http://flaglerartsspace.wordpress.com
Blazejack http://annieblazejack.com
Levenson http://officiallyanartist.blogspot.com