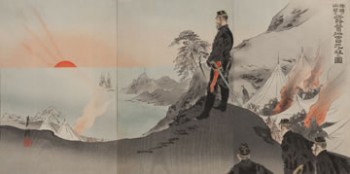 Mark your calendars for the next Target Wednesday After Hours
June 8, 2011 6 p.m. to 9 p.m.
The Patricia & Phillip Frost Art Museum
10975 SW 17th Street
Miami FL, 33132
The opening of these two exhibitions…
Rise of an Empire: Scenes of the Sino-Japanese War of 1894-95
The exhibit will feature 20 woodblock print triptychs depicting first the major conflict of Imperial Japan after the Meiji Restoration of 1868 and the rapid westernization of Japan. The war was mainly fought for the control of Korea, at the time a subsidiary Kingdom of China. Japan's victory was overwhelming and swift, resulting in territorial gains, as well as Korean Independence and substantial monetarily reward. These woodblock prints were made by important artists and used in Japan as both propaganda and for the depiction of places the Japanese were only able to read about in newspapers.
Tribute to Japanese Splendor: The Art of the Temari
Temari is the centuries old tradition of handcrafting embroidered balls. Artist Sharon Thieman creates these beautiful objects with a modern sensibility.
The evening will also include a special Taiko drums performance by Fusho Daiko. Japanese Taiko drumming dates back to over 2,600 years ago. This new style that will be performed is not only an innovative form of Taiko drumming, but also Fusho Daiko's own style.