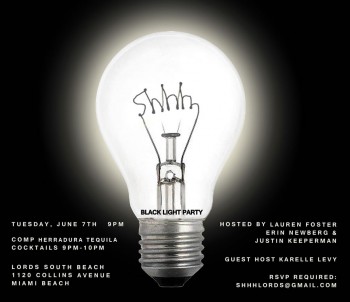 Shhh – hosted by Karelle Levy
Tuesday, June 7th @ 9pm
Lords South Beach
1120 Collins Avenue
Miami Beach, FL
Shhh, a chic, under-the-radar party celebrating the Miami arts community, is back at Lords South Beach next week. On Tuesday, June 7th, a special Black Light Party edition of Shhh will be guest hosted by Karelle Levy. Karelle's background as both a costume designer and performer in Miami led to her ready-to-wear line called KRELwear, which has been featured in Elle, Playboy, Ocean Drive, Complot, and Harper's Bazaar, among other publications.
The party starts at 9pm, and there will be complimentary Herradura Tequila cocktails from 9pm to 10pm. Lauren Foster, Erin Newberg, and Justin Keeperman will also be hosting. RSVP is required – please send responses to SHHHLords@gmail.com.