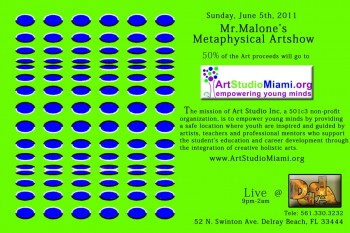 Sunday, June 5th from 9pm-2am
Dada
Delray Beach
A very special evening in which local art, music, and poetry, combine to support a great cause!
Mr. Malone's Metaphysical Artshow brings the community together for visual and sonic delights showcasing his latest projects to raise awareness on the grassroots work of Art Studio Miami by donating 50% of the proceeds to this 501c3 Non-Profit organization.
www.artstudiomiami.org
www.dada.closermagazine.com
robertjohnmalone.com
This show escapes two dimensional constrictions through the combination of a visual and atmospheric experience. Mr.Malone's Paintings bridge a gap between form and dimension with bursts of color and abstract life. Each piece, in his words, is designed with the intentions of helping focus the mind.
Art Studio Miami is a nonprofit organization that truly believes in the power of art as a holistic and empowering tool that engages, educates, and inspires. For at risk youth, Art Studio Miami is a safe location where these children are guided by artists, teachers, and professional mentors who support the student's education and career development through the integration of creative arts projects and programs.
Every piece purchased is a new opportunity for our students.
Not to mention you can eat amazing food and enjoy drinks,
Please join us for a great time! See attached flyer for details.
To view some of Robert Malone's work please visit the following link…
http://robertjohnmalone.com/#/home