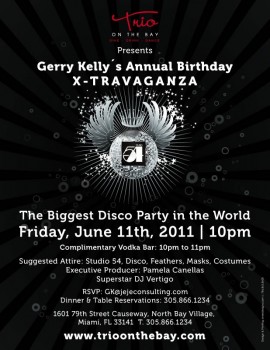 The Most Anticipated Celebration Of The Year Is Here: Gerry Kelly's Legendary Studio 54 Birthday X-Travaganza
Friday, June 11
Trio On The Bay
1601 79th Street Causeway
Miami, Fl. 33141
RSVP to GK@jejeconsulting.com
For table and dinner reservations, please call 305.866.1234
or visit us at www.trioonthebay.com
Gerry Kelly, hailed as Miami's Nightlife Guru, will celebrate his annual Birthday X-Travaganza by paying tribute to Studio 54, the biggest Disco Party in the World. The celebration will take place at Trio on the Bay, located at 1610 79th Street Causeway, on Saturday, June 11 beginning at 10:00 p.m.
Kelly has prepared amazing surprises in anticipation to his celebration, including Non-stop stage shows and performers to relive the 70's and 80's, choreographed and produced by renowned Executive Show Producer, Pamela Canellas from Hot Jam Entertainment and featuring Musical Orchestration by Florida Marlins and Trio Resident, DJ Vertigo.
Gerry, who is loved and admired, has played a fundamental role in placing the Miami Nightlife on the world Map. His mind-blowing events and productions are legendary. From the stage shows, concerts and fashion shows at Level Nightclub, including the worldwide phenomena Janet Reno Dance Party, to his incredible, out-of-the box parties at Bash and The Shelborne, to his famous SuperBowl events at The Fifth, to his tremendous opening at MIVI, to packing night-after-night every nightclub he has owned and operated throughout the years; Gerry Kelly truly is to the Miami Nightlife what the Queen of England is to Royalty. You never know who will walk in at one of Gerry's X-Travaganza's; friends such as Vivica Fox, Jamie Fox, Eve, Jay-Z, Lil' Kim, Beyonce, P. Diddy, Busta Rhymes, Jada Kiss, Cierra. Carlos Ponce, Hugh Rodham Clinton, Senator Frederica Wilson, Dwayne Wade and more, have all been a part of his events and nightclub scenes.
"Trio on the Bay is thrilled and excited to be celebrating Gerry Kelly's Birthday X-Travaganza," said Louie Spetrini General Manager. "He is not only an outstanding Marketing Director and Nightlife Operator, but a dear friend."
To join Gerry Kelly in his birthday celebration, reserve a table or rsvp, please contact Jennifer Heegaard at JEJE CONSULTING at 305.803.5505 or via email GK@jejeconsulting.com.