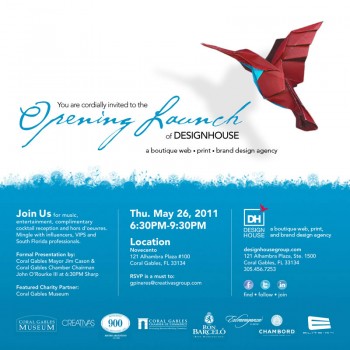 Designhouse: Female-Owned Boutique Web, Print, And Brand Design Agency Opens In Coral Gables With A Boom
Thursday May 26, 6:30PM-9:30PM
Novecento
121 Alhambra Plaza #100
Coral Gables
Benefit (via voluntary donations and raffle) The Coral Gables Museum. For more information: Designhouse: www.designhousegroup.com |Novecento: www.novecento.com |Coral Gables Museum: www.CoralGablesMuseum.org.
Gretel Vi�as and Liz Rodriguez possess two different backgrounds and two sets of career paths. Yet, this duo has combined their talents and individual skill sets to create a dynamic and unique brand: Designhouse. Coral Gables will officially welcome Designhouse, a boutique web, print, and brand design agency to the �City Beautiful� and the business community overall on Thursday, May 26, 2011. The by invitation event will take place at Novecento located at 121 Alhambra Plaza #100 Coral Gables from 6:30pm-9:30pm with a presentation by Coral Gables Chamber president Mark A. Trowbridge, John O�Rourke III, chairman and Coral Gables Mayor Jim Cason.
Novecento Coral Gables will be the location for this fabulous event taking place next week. Guests can expect to enjoy delicious Novecento hors de oeuvres, Chambord Vodka and Barcelo cocktails, lounge music by DJ Mayner who will create a relaxed vibe while guests network, engage and interact. For those interested in an outdoor smoke, Extravaganza Cigars will be rolling fresh cigars on the terrace. This popular eatery is a perfect location for this to-do as Designhouse is also located in the lovely Alhambra Plaza.
As described by the founders, Designhouse is a �boutique web, print, and brand design agency�. When asked about their new venture, they both smiled and responded: �If you can dream it� we can create it.� Websites, logos, e-marketing, and branding are attacked with a holistic approach to give their clients a leg above the competition. This one-two punch power house design team takes pride in offering clients the personal touch which is what they feel has been missing in the creative world for a long while.The like-minded professionals met, and felt there was a void in the business community. They noticed growing changes and needs in the marketplace as well as a rising trend, a preference for working with boutique firms and local based ones more often times than not. The reason given by proprietors was simple, to get the service that was once paramount in a relationship with an agency but somehow lost during the last few years. Gretel Vi�as and Liz Rodriguez felt they had the perfect recipe as they both poses mind blowing talent combined with easy going personalities that fit the boutique style of business.
Designhouse was a concept born from change in the business world. Specifically, Rodriguez and Vi�as saw that they could provide top agency work and A1 service without charging clients large agency retainers. They have created a structure where the client will be able to gain strategic solutions, visuals and the marketing tools needed to set their company and brand apart from the rest while keeping a solid understanding of that client�s budget and long term goals.
With a great network of partners that are scattered across the map, these ladies have created a unique business model to service clients outside of South Florida. Gretel Vi�as and Liz Rodriguez welcome you to their home, Designhouse.