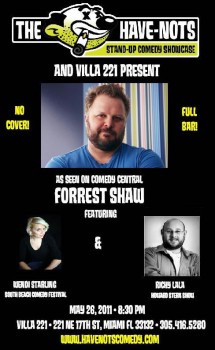 The Have-Nots Present Forrest Shaw at Villa 221
Thursday, May 26th, 8:30pm – 11:00pm
Villa 221
221 NE 17th Street
Miami, FL 33132
www.villa221.com
Have-Nots Comedy and Villa 221 present a unique comedy show featuring some of South Florida's best talent.
No cover
2-item minimum
Headliner: Forrest Shaw
Born in Miami and raised as an only child by a single hippie mother, Forrest Shaw got into stand-up comedy after a decade of life as a marine biologist. Saving manatees and counting seagrass by day, at night, Forrest dedicated himself to comedy, quickly working his way into regular club work. The influence of his former life as a biologist is evident in his material. Forrest delivers witty and clever anecdotes of his unorthodox with a wry smile. He shares his own faults and failures with the audience in hopes that they too can find the lighter side of those things in life, which sometimes seem too much to bear. He also isn't fond of stupid people; but who is? Life is complicated and it shouldn't be. We have created all of this stress and aggravation so the healthiest thing to do is make fun of ourselves and laugh about it.
Featuring the hilarious Wendi Starling and Richy Lala
Additional guest appearances by The Have-Nots, Leon Arp, Scott Stern Josh Silverman and more!