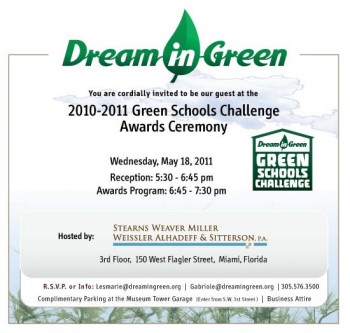 Wednesday May 18, 5:30 PM to 7:30 PM
Stearns Weaver Law Firm
150 West Flagler Street
3rd Floor
Miami, FL, FL 33130
Join Stearns Weaver and Dream in Green this Wednesday, May 18, 2011, 5:30pm- 7:30pm, to celebrate our Green Schools Challenge teachers and principals who have led the way in greening their schools this year.
Our teachers and principals are at the frontline of the future and their abounding energy and passion for creating a greener world is truly inspirational. Come out and show your appreciation for the awesome job they do every day!
Complimentary parking in the Museum Tower.
R.S.V.P. required, just click here.