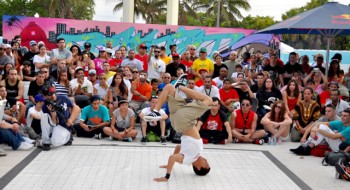 Artist Miguel Paredes & Pk Graphics Present 15th Annual Miami Pro-Am Dance Styles Expo
Friday, May 20
Kung Fu Lounge @ Catalina Hotel
1720 Collins Avenue, South Beach
Registration & Bboy History Panels 7pm – 9pm
Opening Party 9pm – 2am
DJ's: Klassik, Metafour, Chillski, Jock D
Red Bar @ Catalina Hotel
1732 Collins Avenue, South Beach
DJ Panel & DJ Battle 7pm – 11pm
Hosted by DJ Sama
Guest Panelists & Judges: DJ Doo Wop (NYC), Epps (G-Unit), Nick V (Baka Boys), Stevie D, Jungle Boy, Larry Larr
MC Battle & After Party 11pm -2am
Hosted by: K-Solo & Serum
DJ's: Solo 138, Heron
Saturday, May 21: 3pm -10pm
Grand Central Night Club
697 North Miami Avenue
Miami, FL 33136
$20 Entry, $10 for HS & College Student Groups of 5 or more w/ID
Free for kids under 12
Dance Competitions
Breaking, B-girl, 3on3, Brooklyn Rock and Popping Competitions
DJ's: Trails, Solo 138, Magic, Slice, Stevie D, Juneski
Performances by Hip Hop Legends:
Featuring exclusive new material from K-Solo, Cannibus, Sharpshooters, Serum, Eddie Hizpanik, Butta Verses, 2e and for the first time ever on stage K-Solo's 19 year old son "DaVinci"
Aerial show by Lash Lashway
After Party 10:30pm -3am
Maxine's Lounge @ Catalina
1756 Collins Avenue, South Beach
DJ's: TMS, Papito, Casey Masem, J-Sonic
Sunday, May 22: 2pm-7pm
9th Street & Ocean Dr. – South Beach
Dance Cyphers, Live Percussion and Writers Bench
Expo to showcase the best in break dance and hip-hop beginning May 20th
Local artist and urban realist Miguel Paredes and his nationwide graphic design and printing company, PK Graphics, are the presenting sponsors for the 15th annual MIAMI PRO-AM Dance Styles Expo, the first break dance conference in the world and longest running hip-hop dance competition in the US east coast. 2011's expo begins on Friday, May 20th and runs through Sunday, May 22nd at various South Florida locations.
Since its inception in 1997 by break dance pioneer Richard "Speedy Legs" Fernandez, the MIAMI PRO-AM Dance Styles Expo has been instrumental in bringing together thousands of the world's best dancers and hip-hop talent to Miami and South Beach. Dancers and artists are confirmed to compete from all parts of the world including the West Coast, New York, France, Morocco and Colombia. In addition, the expo will also feature a DJ and MC Battle, panels, displayed artwork, performances from hip-hop legends such as K-Solo and Cannibus and a closing party in Lummus Park.
The event is produced by Hip-Hop Elements and hosted by Speedy Legs & DJ Trails. Artist Miguel Paredes and Speedy Legs have a long-standing relationship dating back to the 80s, when Miguel was an active graffiti artist and Speedy was dancing on the streets of New York. Miguel and PK Graphics previously sponsored the PRO-AM Dance Styles Expo in late 90s.