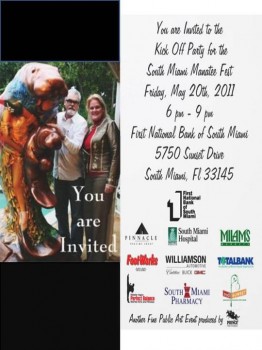 South Miami Manatee Festival
may 20, 2011, 6 – 9 p.m.
1st National Bank of South Miami
5750 Sunset Drive
South Miami, Florida 33145
Facebook Evite.
The South Miami Manatee Fest is a public art event that will take place on the streets of South Miami, Coral Gables, and unincorporated Dade County.
The project's mission raise awareness of our natural resources, our beautiful waterways and Bay, our wildlife and aquatic treasures.
This will be the first glimpse of these fabulous 7 ft works of art before they take to the streets of South Miami.