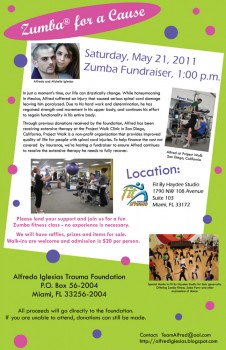 Zumba Fundraiser for Alfred Iglesias
Saturday, May 21, 2011, 1:00 pm
Fit by Haydee Studio
1790 NW 108 Avenue, Suite 103
Miami, FL 33172
www.alfrediglesias.blogspot.com
We need the support of the community. Alfred Iglesias suffered a spinal cord damage during his honeymoon in December 2008. To help finance the cost not covered by insurance, we are holding a fundraiser. We will have raffles, and items for sale and a fun Zumba class. $20 per person donation will go to the Alfred Iglesias Trauma Foundation.