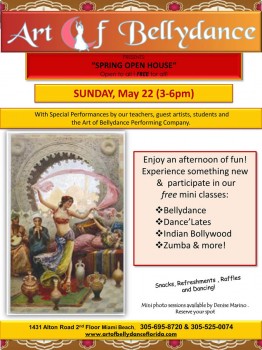 Dance School Open House – FREE Amazing Classes and Performances!!!
May 22, 2011, 3:00 PM to 6:00 PM
Art of Bellydance Studio and Boutique
1431 Alton Road
Miami Beach, FL 33139
www.artofbellydanceflorida.com
Art of Bellydance Studio, South Florida's Premier Mid-Eastern dance school, invites you to experience and sample our variety of classes and enjoy a spectacular dance showcase, all in one afternoon at absolutely no charge! Our inspiring sample classes will include Bellydance, Dances of India (Bollywood and more), Zumba, Pilates, and much more! Guests will enjoy an amazing Middle Eastern dance show by many of the most talented international performers and certified instructors in South Florida: Francesca, Roshana, Alexandra, Montserrat, and Kristina to name a few.
Bring the whole family for an afternoon of fun, snacks & refreshments, raffles, and lots of dancing…experience the "Art of Bellydance" our way!