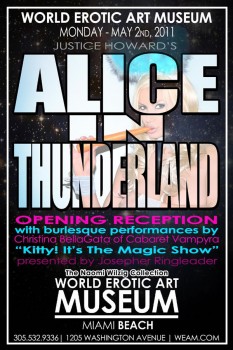 Alice in Thunderland Opening Reception
Monday Night, May 2, 7pm – 10pm
World Erotic Art Museum
1205 Washington Avenue
Miami Beach, FL
The exhibition of Justice Howard's remarkable interpretations of Lewis Carols "Alice in Wonderland" opens Monday May 2nd at the World Erotic Art Museum.
Highlighting the night will be a plethora of performances, music, live shows and a reception for guests hosted by South Florida Vampire Ball founder and Fetish Party Legend Josepher Ringleader.
Also adding to the festivities will be the special birthday celebration of perfomance artist/magician Christina BellaGata.