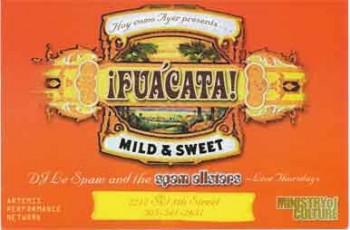 Thursday – May 19th, 2011
Hoy Como Ayer
2212 SW 8th Street
Little Havana, FL
9pm doors, ladies free until 10:30pm
Rumba at Midnight, Spam Allstars set to follow
21+, $7 to get in
www.spamallstars.com
Fuacata!! Spam Allstars celebrate 10 years of playing their weekly residency at Hoy Como Ayer! Can you believe it?? Please join us on this very special night as we celebrate a decade in Little Havana.
So much has happened at this spot for Spam Allstars over the years its hard to sum up. The night has introduced the band to many people, and has taken them to other parts of the globe. The press/media have been in and out ranging from Rolling Stone to Good Morning America. Celebrities have been known to pass by to experience this night including Pee Wee Ellis (JB Horns), Page McConnell (Phish), John Medeski (MMW), Mick Jagger, Prince, Ricky Martin, and many many more. Most importantly there has been week after week of fantastic music, collaborations with painters, dancers, rumberos, and other musicians that have had an impact on the music and arts scene in Miami. This night has given all of us something to share with visitors that is distinctly a Miami sound and experience!
Spam Allstars would like to thank the owners of Hoy Como Ayer, and the many people who have helped us promote this night over the years. And to the fans who have come and partied with us week in and week out…we couldn't have done it without your support!!
We hope you will be with us on Thursday, May 19th 2011. It's sure to be a wonderful celebration.