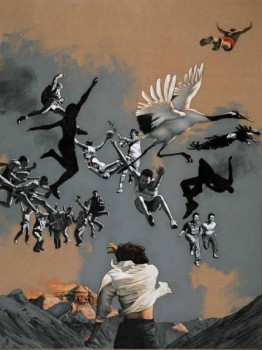 The Frost Art Museum Opens Three New Exhibitions on the next Target Wednesday After Hours
Wednesday, May 25, 6 p.m. – 9 p.m.
The Patricia & Phillip Frost Art Museum at FIU
10975 SW 17 Street
Miami, FL 33199
The new exhibitions at The Frost Art Museum will feature works by artists from China to California to South Florida. From Francie Bishop Good's images bringing to light an underserved population to the artists' in East/West Visually Speaking view of the western world to David and Hi-Jin Hodge reflecting on living in self-imposed boxes, each of these unique exhibitions contemplate and reflect on reinterpreting what many may overlook throughout their daily activities as well as what they may have established as the norm.
"These exhibitions focus on artists with innovative methods and unique viewpoints that clearly think outside of the established confines," said Carol Damian, director and chief curator of The Frost Art Museum. "As an educational institution, enlightening the public to new perspectives in art is central to our vision."
In EAST / WEST: Visually Speaking, 12 Chinese artists focus on merging two diverging visual languages: East and West. They reinterpret aesthetic visual traditions according to their perceptions and knowledge of European and American visual arts and appropriate iconic images such as Greek Hellenistic sculpture to the ubiquitous Pepsi logo. While in some works the reference to Western culture seems adoring, especially to the visual culture lexicon, in other works it appears to parody the West, its cultural symbols and values. The exhibition features contemporary works by Cai Lei, The Luo Brothers, Ma Baozhong, Cang Xin, Shen JingDong, Shi Liang, Sun Ping, Tang Zhigang, Zhang Hongtu and Zhong Biao.
The South Florida Cultural Consortium Exhibition presents recent works by the recipients of the 2010 South Florida Cultural Consortium Visual and Media Artists Fellowship. The artists on view in this exhibit are Cooper, Michael Genovese, Francie Bishop Good, Nolan Haan, Sibel Kocabasi, Beatriz Monteavaro, Glexis Novoa, Jonathan Rockford, Bert Rodriguez, FriendsWithYou, The TM Sisters, and Tonietta Walters. An alliance of the local arts agencies of Martin, Palm Beach, Broward, Miami-Dade and Monroe counties, the Consortium assists artists through direct grants awarded solely on the basis of creative excellence to improve artists' skills and encourage career development. This exhibit is an essential feature of the fellowship program and enables artists to be shown in a flagship visual arts institution of the region.
Returning to The Frost Art Museum with their own installation are David and Hi-Jin Hodge with Who's Counting and Temporal State Of Being. It consists of two multi-media works that explore the idea that 21st century existence is lived in a context of boxes, of our own making, and asks the question: Have we lost a sense of the boundlessness and seamlessness of space and time, because of the pervasively rectangular environments and of everyday life? David Hodge and Hi-Jin Hodge have created video installations for artistic exhibitions around the world. Their installations blend editorial materials and innovative uses of technology to explore complex human and social questions.