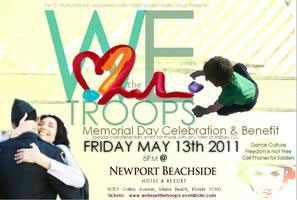 Friday, May 13, 8:00 PM
The Newport Beachside Resort
16701 Collins Ave.
Miami Beach, FL 33160
Admission: $10.00
Purchase Advanced Tickets.
"We HEART the TROOPS " Memorial Day Celebration & Benefit
You are requested for your support and attendance to "We HEART the TROOPS" Memorial Day Celebration & Benefit, a night of entertainment and tribute to the thousands of service members who have served and been injured while serving overseas, especially in Iraq and Afghanistan.
This event will be held at one of the few resorts in the Nation that offer discount rates for Veterans, The Newport Beachside Resort inside The Tiffany Ballroom, 16701 Collins Avenue, Miami Beach, Florida 33160, Friday, May 13, 2011 starting at 8pm.
Benefiting from this event, Cell Phones for Soldiers, Freedom Is Not Free, Operation Hug-A-Hero
Tribute LIVE PERFORMANCE by: Florida Panther's Ice Dancer's
Miami's own Dance Culture will showcase unique artistic dancing from cultures around the world.
Complimentary hor'derves and drink specials all evening
Special complimentary entry for those with any form of military I.D.