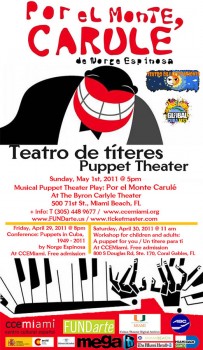 Puppet Theater/Teatro de Títeres: Por el Monte Carulé, by Norge Espinosa
Sunday May 1st, 2011 @ 5pm
Byron Carlyle Theater
500 71 St
Miami Beach, FL
FUNDarte, CCE Miami and UM's Cuban Theater Digital Archive present: Direct from Matanzas, Cuba, Teatro de Las Estaciones
$20 general admission, $15 senior (65+) and CCEMiami\'s members and $10 childrens (18-) with I.D. Purchase through Ticketmaster at www.ticketmaster.com and by phone (800) 745-3000 (service charges apply), or in-person (no service charges) at the Byron Carlyle Theater day of show and in advance at any ticketmaster venue
Por el monte Carulé (
Journeying through the songs that made Bola de Nieve famous, this piece by Teatro de las Estaciones reinvents the life of Cuba's extraordinary piano man; coursing through the artist's memories and passions by way of a musical tapestry. Puppets and actors come together in an homage to Bola, to the Havana of his day, to the cabaret scene and the stages upon which he stood as an unrivaled protagonist. This work invites us to sing and dance alongside of this legendary artist, experiencing Cuba as he knew it – Cuba as a song unto itself.
Por el monte Carulé: un retablo de canciones.
A través de las canciones que hicieron famoso a Bola de Nieve, el extraordinario piano man cubano, este espectáculo de Teatro de las Estaciones reinventa su vida, sus pasiones, sus memorias, en un retablo musical. Títeres y actores se unen en un homenaje a Bola, a la Habana de su tiempo, al cabaret y al espectáculo donde él fue un protagonista sin rivales. Y nos invita a cantar, a bailar, junto a él, desde una Cuba que también es canción.