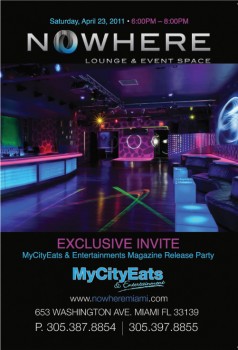 Exclusive Invite
Saturday, April 23, 6:00pm – 8:00pm
No Where Lounge
653 Washington Ave.
Miami FL 33139
Kindly RSVP by 04/22/2011 to Support@MyCityPublications.com
MyCityEats & Entertainment cordially invites you and a guest to join us in celebrating the release of our Summer 2011 issue featuring No Where Lounge!
View our latest issue while enjoying Complimentary Hors d'Å"uvres & Complimentary Cocktails*
We look forward to seeing you there.
Cheers!
*Complimentary cocktails are based on house special(s)