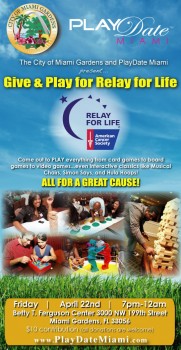 Big Game Night for Relay for Life in the City Friday
Friday, April 22nd, 7pm-12am
Betty T. Ferguson Center
3000 NW 199th St
Miami Gardens
RSVP Here.
Love to play Taboo? UNO? Spades? All types of games at the huge adult game night for a good cause. Join PlayDate Miami & the City of Miami Gardens for "Give & Play for Relay for Life" Friday, April 22nd from 7pm-12am.
Give & Play will be hosted at the City's all new $15 million Betty T. Ferguson Center located at 3000 NW 199th St, Miami Gardens with proceeds going towards the City's $15,000 Relay for Life fundraising goal. Contribution is $10.
Give & Play is a cause-based marketing initiative based on the popular PlayDate brand and offers charities and non-profit organizations a new way to raise awareness and financial support for a worthy cause based on the idea of playing games and having fun. Just like the PlayDate Miami event concept, attendees of Give & Play come out and enjoy all types of classic nostalgic games like Monopoly, Taboo, Scrabble, Uno, Connect Four, and even childhood favorites like Rock 'Em Sock 'Em Robots and Hungry Hungry Hippos. Interactive games also include a Hula Hoop contest, Twister, Adult Musical Chairs, and even Simon Says.
"I am supportive officially and personally to the fight against cancer and their research. I encourage everyone to be a team player and not a spectator," shares Miami Gardens Mayor Shirley Gibson. "As a team, we all win!"